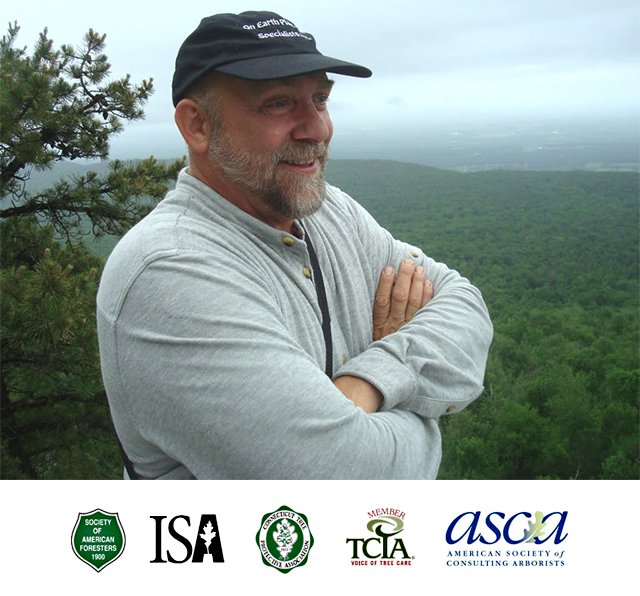 Owner - Steven A. Knapp
Steven A. Knapp has been actively involved in the green industry
for over 30 years.
Steven is the driving force behind On Earth Plant Care. Steven obtained his Bachelor's Degree of Science from UMASS, Urban Forestry Program and is a Certified Vocational Horticulture, Forestry and Plant Science Teacher (#5025228). He has also taught organic gardening, farming, and plant uses at Fosen folkehogskola, in Rissa, Norway, and in various locations in Finland. He also holds an Associate's Degree of Science, University of Massachusetts, Stockbridge School of Agriculture, in Arboriculture & Park Management.
Steven is an International Society of Arboriculture (ISA) Certified Arborist (#NE-0176), and state certified arborist in Connecticut (#ARB 62871) and Massachusetts (#MCA 1641). He is also member of the New York and New England ISA Chapters -- there is no separate New York State Certification program --, Tree Care Industry Association (TCIA, #51347) and the American Society of Consulting Arborists (ASCA). Steven is also Certified Forester and Watershed Certified Forester (#3427) with Society of American Foresters (SAF).
On Earth Plant Care Specialists, Inc. (est. 1999)
Is an A+ Rated Accredited Business with the Better Business Bureau
We believe that honesty is the best policy and we are happy to provide whatever is necessary in order for you to feel knowledgeable about our recommended work. We maintain standards, certifications, licenses and insurances to provide safety for you and for our working team.
Our Philosophy: The Earth is in all of our hands.
Through honest, educated and exemplary state-of-the-art plant care practices, our goal is to improve the quality of life for both you and our society, today and for generations to come. It is important to be in touch with the world of nature – it is healing and nurturing.
We take pride in being conscientious, ecological, economical, professional and holistic. Through certification processes, our educational backgrounds and practical experiences, we are ready, willing and able to provide professional plant care.
When working on your valuable property, we assure that a certified and/or a qualified, educated and experienced arborist will perform the technical arboriculture. And when we landscape, we listen to you to understand your aspirations – then we plan, design, and install landscapes that will mature responsibly.
We want our work to be a source of joy, not just practicality or aesthetics. We know that the time you gather with family and friends is very valuable. We invite you to spend it in your garden, backyard or newly landscaped parts of your property experiencing the power of the natural world. We hope you will experience simple joys such going out in the morning to pick berries from your own berry bushes to bake pancakes or to put in your cereal. Or to bring fresh flowers in from your perennial beds. These kinds of moments connect you to the Earth, and make memories for the rest of your life.
We listen to the heart and act for the Earth.
Licensed Home Improvement Contractor #WC-29306-H17 & #PC2098
We are an A+ Rated Accredited Business with the Better Business Bureau.
Please feel free to contact us for more information or to schedule an appointment to discuss your project.